TRIZ | Differentiation technology development support@proengineer-institute
TOP > What is TRIZ > All sub-principles 104 Illustrated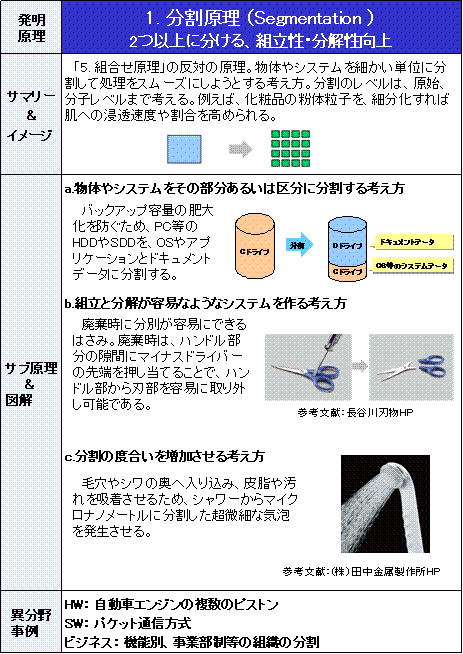 40 Inventive Principles_All sub-principles 104 Illustrated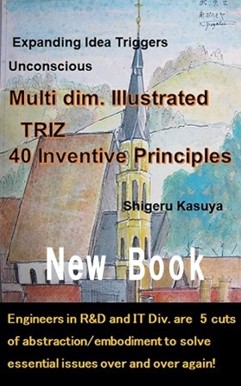 <How to use it?>

 SONY, Casio, YU, NIT, etc. are being used one after another. How to use it?(Jpn or Eng)。
the way to useA: After confirming the true purpose or root cause, think about what you want to do while scanning each principle.※Detailed explanation at the bottom
the way to useB: The problem is converted (abstracted) into the improvement and deterioration characteristics of the contradiction matrix, and the idea is based on the principle of intersection.※Detailed explanation at the bottom
 ※ What is TRIZ(Overview & Contradiction Matrix Automatic Search)
<Detailed explanation of how to use 40 principles>
A.Customary scanning method
 When a problem occurs, I can't afford to panic. Considering it as a contradiction problem, abstracting the problem, and then searching the contradiction table for the principle of invention would require considerable training. I would like to recommend that you familiarize yourself with the 40 principles of invention on a daily basis. Alternatively, after confirming the true purpose or root cause, scan all possible invention principles and come up with ideas. Even if you don't understand TRIZ itself, it is a powerful hint for those who want to cling to straw.
B.Invention principle extraction method from contradiction Matrix
 Contradiction 39 × 39 characteristics (parameters) are arranged on the vertical and horizontal axes of the Matrix table. After abstracting the problem, if you select "improving characteristics" from the vertical axis and "deteriorating characteristics" from the horizontal axis, the "principle of invention" will be presented at the intersection of the two ( Automatic search for inconsistent Matrix b> ). We will come up with a solution using this principle of invention as a hint. For example, if you select "volume of moving object" for improving characteristics and "area of moving object" for worsening characteristics, "01 division principle", "04 asymmetry principle", "07 nesting principle", and "07 nesting principle" are selected at the intersections of the Matrix table. 17 "Principle of transition to other dimensions" can be confirmed.